In Spain we have a multitude of destinations to celebrate a charming Christmas. And we can tell you that some of the most beautiful corners are within our geography.
We propose Christmas getaways within reach of all pockets and without having to leave the country.

Seville
Seville is famous for its rich architecture, its history and its tapas. But when Christmas arrives its cultural and leisure programme becomes even more extensive. The city is full of tradition with its cribs and flea markets, without forgetting its Crib Fair located next to the Cathedral.
Walking along the illuminated Avenida de la Constitución is a real pleasure.
And one more year, Alumbra extends its activities installing a spectacle of lights and music with the recreation of the three crowns of the Three Wise Men on a large scale in Plaza de San Francisco.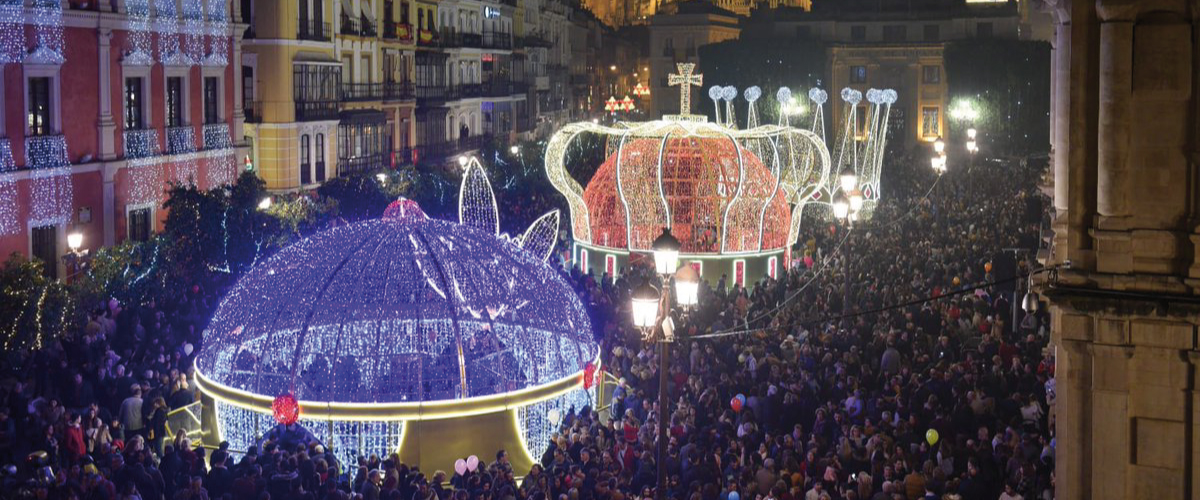 Imagen: sevilla.org
For children, an ice rink, rides and street shows have been installed in Alameda de Hércules. This year as a novelty, the show Artika brings the polar world to Avenida de la Constitución. And don't forget to visit Seville's Real Alcázar from 22 to 31 December to deliver the letters and petitions for the Three Wise Men to the Kings of the Alcázar.

Granada
Granada is beautiful every day of the year, but when Christmas comes it is full of beauty. One of its attractions in Sierra Nevada is undoubtedly the ideal place for lovers of snow sports. It is also suited for those who come to enjoy a day full of magic and snowballs with their family.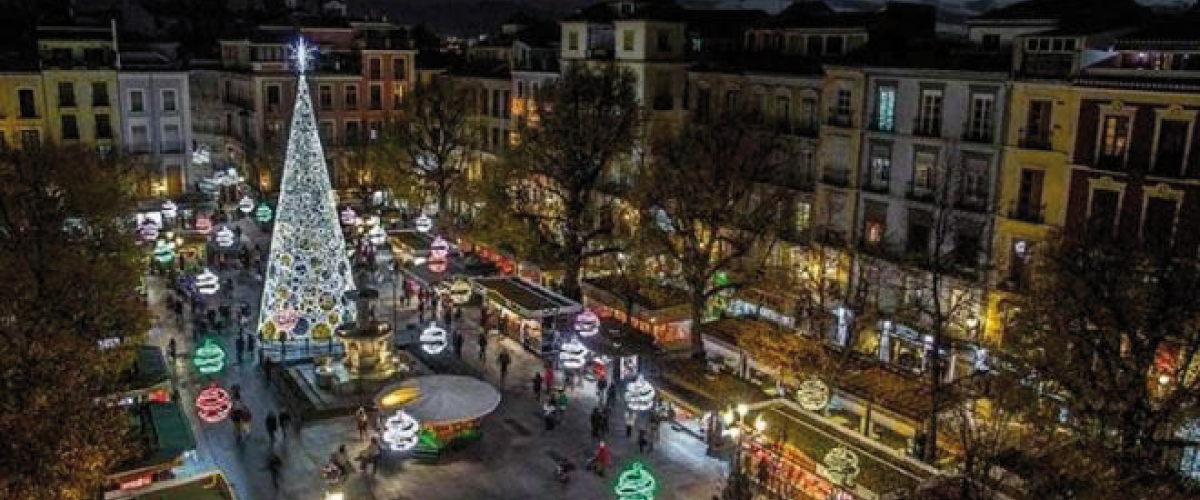 This year the city of the Alhambra has been wrapped with lights to set the mood of Christmas these dates. Getting lost in the Christmas market in Bib-Rambla, contemplating the cribs or savouring the delicious sweets of convents are some of the traditions you should not miss.
And to finish, every day from 19h to 21h, there is a spectacle of lights and sounds projected in Plaza del Carmen that will make you want to return to the city.
Madrid
The capital offers an intercultural Christmas with more than 200 activities: gastronomy, workshops, music, cinema, readings, storytelling, theatre, dance, games and artistic installations. Activities for all tastes with the motto "Christmas always comes back".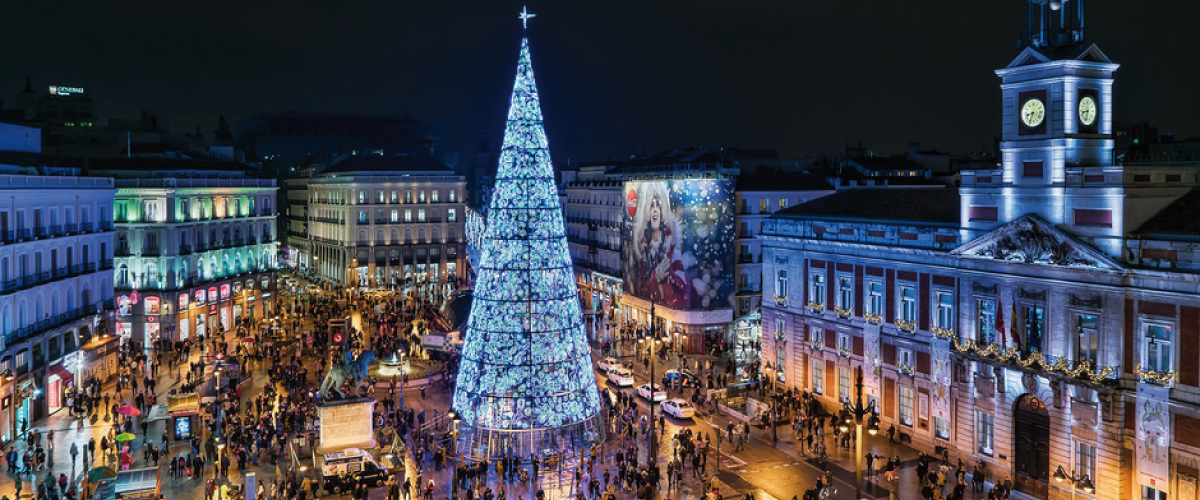 Imagen: traveler.es
This year a guide to the cribs has been created with the aim of valuing the heritage of the Christmas tradition. And as great novelties the "Feast of Light" will illuminate Madrid Rio with music and pyrotechnics on December 21. As well as the impressive spectacle Cristal Palace that will take dance to the streets of Madrid.
And once again, Plaza Mayor is filled with stands from 23 November to 31 December to celebrate Christmas. This is one of the best Christmas markets in Spain that you should visit if you come to Madrid for Christmas.
Barcelona
Barcelona is another city that is filled with the Christmas spirit at this time of year and offers a multitude of plans. Another one of the best Christmas markets in Spain is here, the Fira de Santa Llúcia. It is the oldest Christmas market in the city and the most emblematic. Come to the Avenida de la Catedral, and look among its 286 stalls for decorations, figures of manger or craftmanship.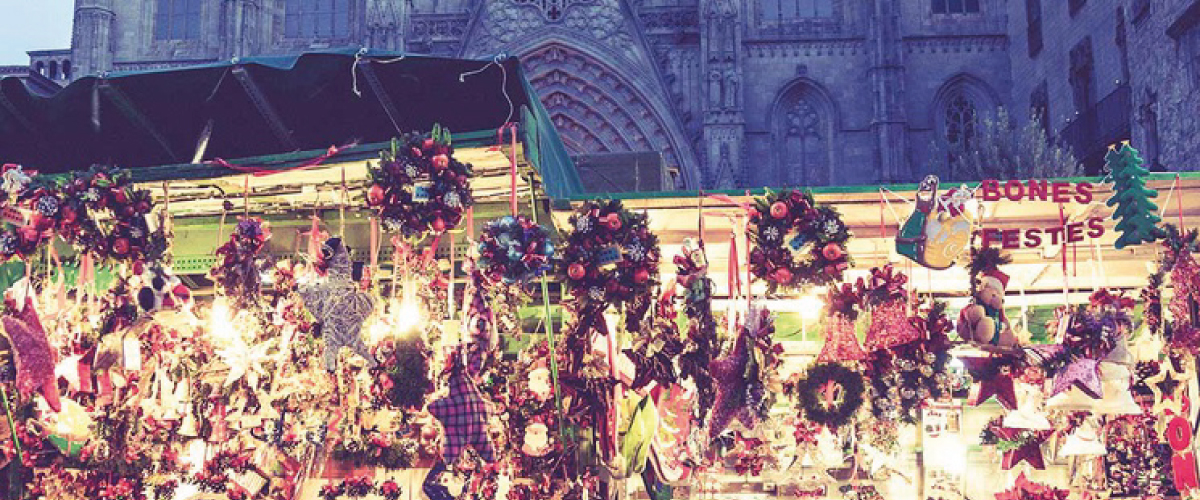 Imagen: traveler.es
Presiding over the square is the Giant Uncle, to whom the youngest will be able to claim their gift from on 30 November to 23 December. Tibidabo is also decorated for Christmas, from 24 November to 5 January, so people can enjoy family parties in this emblematic amusement park of the city.
And of course, stroll and enjoy the Christmas decoration of its streets. Especially the Poble Espanyol, which will become a Christmas scene from 6 to 29 December. And finally, visit the classic crib in Sant Jaume square, the work of the theatrical scenographer Sebastià Brosa, which this year focuses on family meals and good wishes.
These are some of the Christmas destinations in Spain. And if you want to complete your visit, bet on our tours in Seville, Granada, Madrid or Barcelona. Live a unique experience with our guided tours!
Volver